The best way to keep in touch is to join the TRHA online discussion group. Click here to join.

If you want to reach us the old-fashioned way (which we still dearly love), our postal address is:

Toronto Railway Museum
255 Bremner Blvd, Unit 15
Toronto, ON M5V 3M9

To contact us through email, please click here. To call, dial 416-214-9229.



Like most of the railway organizations in Canada, we are completely volunteer-based. If you want to contribute to the Toronto Railway Museum, either through donations or through active involvement, we'd love to hear from you.

To make a donation, click here to access our donations page.

The museum was opened in May of 2010 but remains a work in progress. If you are interested in getting involved, contact us by clicking here! Please let us know your contact information, skills, interests, and availability. You don't have to be an expert to help.



The museum is located in Roundhouse Park in a city block bounded by Bremner Boulevard, South Simcoe Street, Lakeshore Boulevard West and Rees Street. Part of the museum is located in a portion of the ex-Canadian Pacific Railway John Street roundhouse. Roundhouse Park is located just south of the CN Tower and just east of the Skydome in downtown Toronto. The address is 255 Bremner Boulevard, Toronto, Ontario.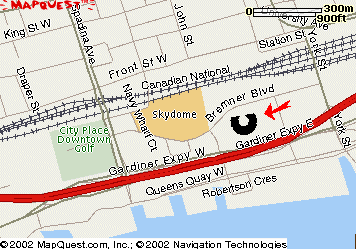 For more information on the Toronto Railway Museum, its attractions and its hours of operation, click here.