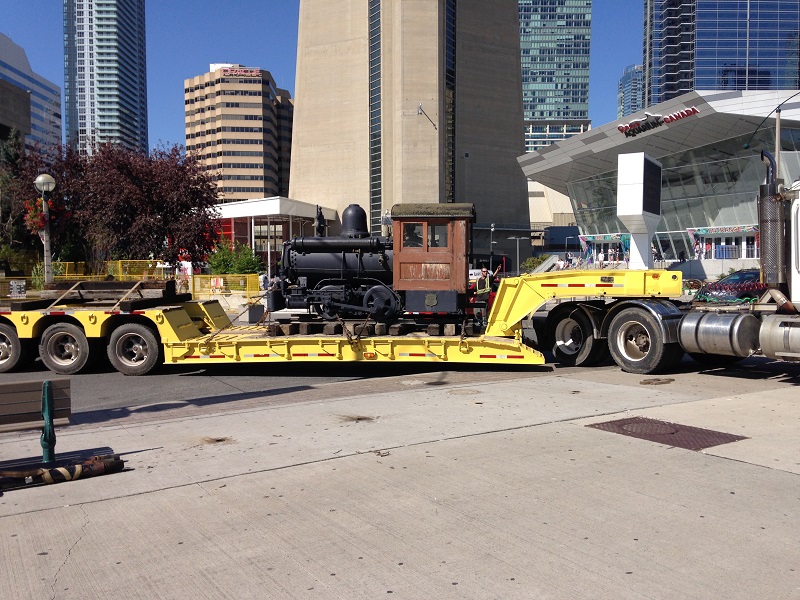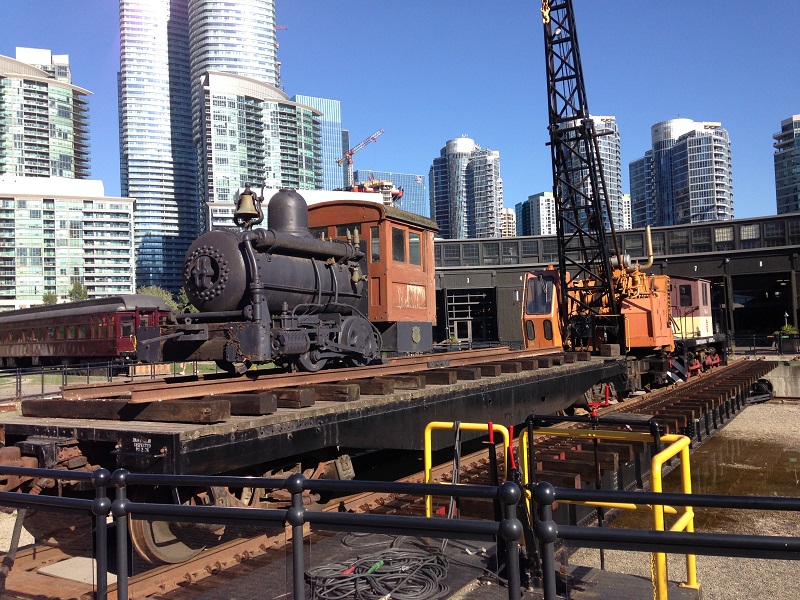 The Porter locomotive was successfully moved to the TRM on Monday September 19th in a highly efficient operation by McCulloch Movers. Load-travel-unload took just a little over three hours. Thanks again to everyone who donated. The campaign is still open, funds raised will go towards restoration costs.

The Volunteers, Staff and Executive team at the Toronto Railway Museum would like to offer an enormous THANK YOU to Greg and Laurie McCulloch www.mccullochmovers.ca for their generous donation-in-kind of their services and expertise to move the Porter locomotive to the TRM. The value of this gift has been added to our fundraising total that now stands at $7,355.

Once again thank you to everyone who has donated so far.

We will be keeping the campaign going for a time so that everyone who wants to will have a chance to donate. Every dollar we collect increases the chances that we will be able to make the locomotive run again

Quick summary: The Porter locomotive is about to become homeless, and the TRHA and TRM would like to save it. Although the current owner has offered to donate the Porter locomotive to the Toronto Railway Museum free of charge, stabilizing and moving it to our location will cost $6,000 and we need your help in raising the funds. If donations exceed our target, we will earmark the additional funds to the restoration of the locomotive. You can make a donation by clicking on the Paypal button below. You will be taken to a PayPal page where you can use any major credit card to make the donation. The TRHA is a federally registered charitable organization. All donations of $25 or more are tax receiptable.






If you would prefer to send us a cheque or money order, please make it payable to the Toronto Railway Historical Association and write Porter in the memo. Please do not send cash. Please send your donation to:

Toronto Railway Historical Association
Rescue the Porter campaign
255 Bremner Boulevard, Unit 15
Toronto, ON M5V 3M9

Large or small, we welcome whatever help you can provide to restore this important part of our heritage.




Here's more information on the Porter Engine:

In the west end of Toronto on an industrial lot scheduled for redevelopment sits a locomotive manufactured in 1906 by the H.K. Porter Co. of Pittsburgh, Pennsylvania, a prolific builder of almost 8,000 light industrial engines between 1866 and 1950. This 0-4-0 industrial switching engine needs to be relocated soon or it will be lost to posterity forever.

This six-ton 40.5-inch gauge locomotive was built for the Plymouth Cordage Company in Welland, Ontario. Although the mechanics are similar to a conventional steam locomotive, the engine uses compressed air rather than steam for propulsion. This technology was required in industrial settings that posed extreme fire hazards, such as a mine or a plant like Plymouth that manufactured easily flammable rope and binder twine.

During the Porter's working life, it was estimated that it travelled over 50,000 miles or twice the length of the equator on only 1,800 feet of track. When Plymouth Cordage replaced the railway with fork lifts and tractors in 1956, the engine was purchased by well-known railway equipment dealer and rail enthusiast Andrew Merrilees and transported to his plant on Old Weston Road in Toronto. For the next sixty years, the locomotive functioned as a corporate mascot or lawn ornament. Rather than being allowed to deteriorate like most outdoor display engines, ongoing maintenance and occasional restoration kept the Porter in good shape over the years.

Although the engine never ran within the city, there is a precedent for narrow-gauge Porter locomotives operating in Toronto, albeit of a different gauge and using conventional steam. In 1911, the City of Toronto acquired six saddle-tank Porters to aid in the construction of the Toronto Civic Railway streetcar lines.

Now the Porter locomotive needs a new home. What better place for this priceless artifact than the Toronto Railway Museum?

Aside from its historic value, the engine provides an opportunity to demonstrate a lost technology, one that sustained the John Street Roundhouse for over thirty years. The Porter is a prime candidate for operational restoration since compressed air is much less complicated than a conventional steam locomotive.

The current owner has offered to donate the Porter locomotive to the Toronto Railway Museum at no cost. However, the engine needs to be moved and the cost of the transfer from West Toronto to Roundhouse Park plus some initial stabilization is estimated at $6,000. Since there is no provision in the 2016 museum budget for such an expense, we are appealing to the public and museum supporters for donations that will enable us to acquire this 110-year old locomotive.